Apple's India business almost touched a record milestone of Rs 50,000-crore revenue, with sales growing by 48% to Rs 49,321 crore in the fiscal year 2022-23, according to regulatory filings with the Registrar of Companies (RoC). The company also recorded a significant increase in net profit, which surged by 76% to Rs 2,229 crore. This marks the fastest growth in net profit for Apple in India over the past five years, according to an ET report.
Analysts attribute this growth to a higher share of sales of new generation devices, which offer higher profit margins.Additionally, there has been a reduction in component costs, contributing to the surge in profits. However,Apple India has not disclosed any specific reasons for the increase in sales and profit in the filings. An email sent to Apple was unanswered till press time.
Mohit Yadav, founder of AltInfo, a business intelligence firm, stated that this growth showcases Apple's limitless potential for expansion. "Apple has demonstrated remarkable financial prudence, reflected in high percentage increases in both its top and bottom lines, suggesting limitless growth potential for the company," Yadav said.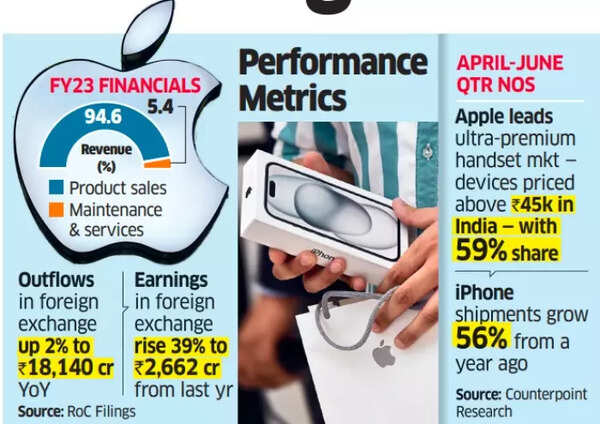 Apple India sales
Tarun Pathak, research director at Counterpoint Research, a mobile phone market tracker, predicts that Apple's business in India will continue to grow in the coming years. He attributes this growth to the brand strongly riding the wave of premiumisation in the market, fueled by the increasing availability of consumer financing.
While iPhones currently drive the majority of sales in India, Pathak believes that other revenue streams, such as other products and services, will also contribute significantly in the near future. He further explains that the rise in profit can be attributed to the higher share of new generation devices, as evidenced by the continued increase in the average selling prices of iPhones in India.
Explained: How India has scripted a smartphone exports success story
According to the Registrar of Companies filings, 94.6% of Apple India's revenue comes from product sales, while the remaining 5.4% is generated from maintenance and services. Apple is yet to fully expand its services business in India, which globally contributes around 30% to its overall sales.