HYDERABAD: DroneTech startup Marut Drones has set up its new integrated facility in Madhapur and is looking at its maiden fundraise of $4 million to fuel future growth and hiring plans. The new facility is equipped to support production, technology, and research and development (R&D) and will also double up as a corporate office.
The hitherto bootstrapped Hyderabad-based startup is currently in talks with domestic and international venture capital and private equity players for its first funding round which it hopes to close by March 2024, its CEO & founder Prem Kumar Vislawath said on Friday.
He said the funding will be used for expansion of business and operations, mainly towards creating agri-tech innovations, enhancing its drone lineup, extending the channel network, and expanding to new markets across India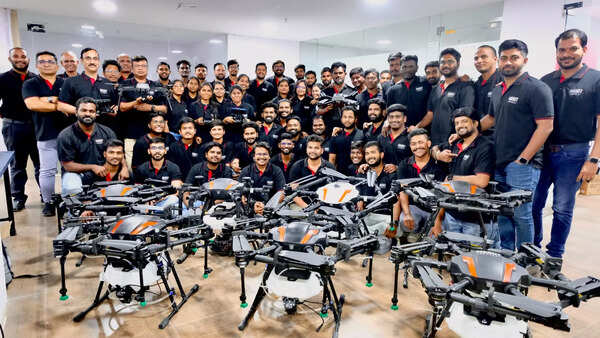 Marut Drones, which was set up in 2019 and was so far working out of the Telangana government led incubator T-Hub, has moved into the new facility that is spread over 9,000 sq ft and has a capacity to accommodate around 200 employees.
The startup already has a team size of about 80 and is looking to ramp up headcount to around 200 by March 2024.
This would include around 50 senior professionals as part of efforts to bolster its leadership team by onboarding industry veterans to expand operations to over 10 states from the existing seven states, he added.
With drone technology adoption still in the nascent stage, the company will be focusing on setting up drone customer support centres and service centres in key regions like Madhya Pradesh, Maharashtra, Andhra Pradesh, Telangana, Karnataka, and Tamil Nadu. It plans to expand its dealer network to over 100 by March 2024 and around 500 dealers by 2028.