Credit card perks that included attractive reward points, instant cashbacks, and various benefits such as access to airport business lounges and exotic vacations at low cost have been scaled back by banks during this festive season. As banks strive to gather deposits after recent interest rate hikes, they are becoming less generous with these offers.
Data collected by ET revealed that banks have increased spending thresholds and caps, indicating a focus on profitability in the loan segment, which has been growing alongside increasing affluence in urban India.
For example, HDFC Diners Club Privilege Card has discontinued its double reward points on weekend dining, Rs 1,000 vouchers on monthly spends of Rs 40,000, and reduced global lounge access from twelve to two. SBI Cash Back Card has halved the monthly cashback amount to Rs 5,000 and discontinued domestic lounge access. SBI Card did not respond to an email seeking comment.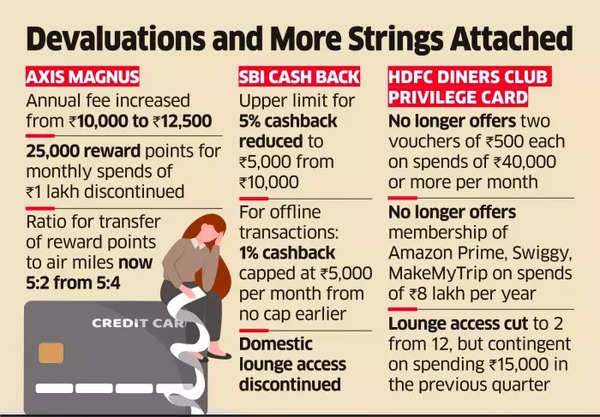 Credit card perks take a hit
Axis Bank's Magnus card has raised its annual fee and discontinued the offer of 25,000 reward points on spends of Rs 1 lakh. The conversion of reward points into air miles has also been limited to two air miles for every five reward points, compared to the previous offer of four air miles.
Analysts suggest that this move by banks to devalue credit cards indicates their desire to tighten their belts. Karhtik Srinivasan, Group Head of Financial Sector Ratings at ICRA, stated, "They have built a customer base probably with offers that were too good, but now there is some pressure on banks' profitability." However, there has been no significant impact on card issuances or spending so far, he noted.
Bankers have acknowledged that these changes will enhance profitability for the business and address anomalies. Sanjeev Moghe, Head of Cards & Payments at Axis Bank, explained, "There have been changes because we felt that some customers were not using the benefits fully and others were showing some abnormal behaviour in spending."
HDFC Bank CFO SK Vaidyanathan noted that the changes aim to increase card usage and foster customer loyalty. HDFC Bank, the country's only lender with a market value exceeding $100 billion, leads the segment, accounting for over a quarter of card spends.
Asutosh Mishra, Head of Institutional Equities at Ashika Stock Broking, emphasized that these changes reflect the changing market conditions influenced by rising inflation and prices, which impact the value of reward points offered by banks.