MARRAKECH: Chief economic adviser V Anantha Nageswaran does not see an immediate economic impact of the
war
in West Asia but suggests that there is a need to watch how things play out in the coming days.
"Market participants are unsure that is why you see the volatility. It is a bit early for us to talk about the impact on the Indian economy with great deal of specificity.At the moment, we do not see it as something that is causing an immediate and significant economic impact, but we will need to watch it closely," he said.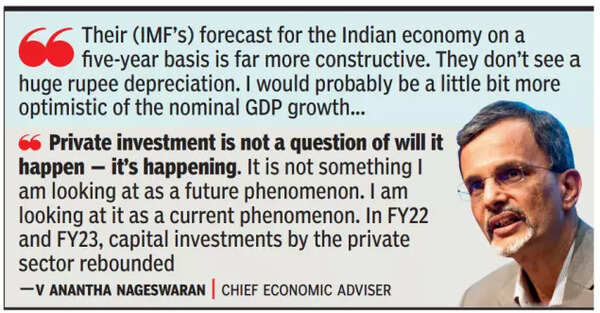 The government's chief economist is, however, otherwise bullish on the Indian economy, arguing that demand is strong and private investment has started. "Private investment is not a question of will it happen – it's happening. It is not something I am looking at as a future phenomenon. I am looking at it as a current phenomenon. In FY22 and FY23, capital investments by the private sector rebounded. You also get a sense of it from the import of capital goods, and the capital goods data in IIP. In August, the growth (in the IIP sub-set) was 12.6%, a nine-month high, which signifies a pickup in capital formation," he said.
The Centre has been seeking to boost private investment and had stepped up public spending to generate demand for steel, cement and other inputs, which government believes has helped.
Nageswaran said that the IMF projections for a five-year period suggested that the Indian economy will grow around 6.3%, with nominal growth of around 10.5%. "Their forecast for the Indian economy on a five-year basis is far more constructive. They don't see a huge rupee depreciation. They do see the economy at close to $5 trillion in 2026-27. I would probably be a little bit more optimistic of the nominal GDP growth," he said, adding that India will contribute more to global GDP growth in the coming years.
The CEA identified crude and tighter financial conditions globally as possible risks. "Crude price is clearly a factor, and of course the second factor is global financial conditions becoming tighter, not only due to interest rates, but also due to stock markets, which have been showing signs of going nowhere and they have to break out one way or the other," he said.
Israel-Hamas War: US to evacuate nationals from Israel by ship 'on a space limited basis'