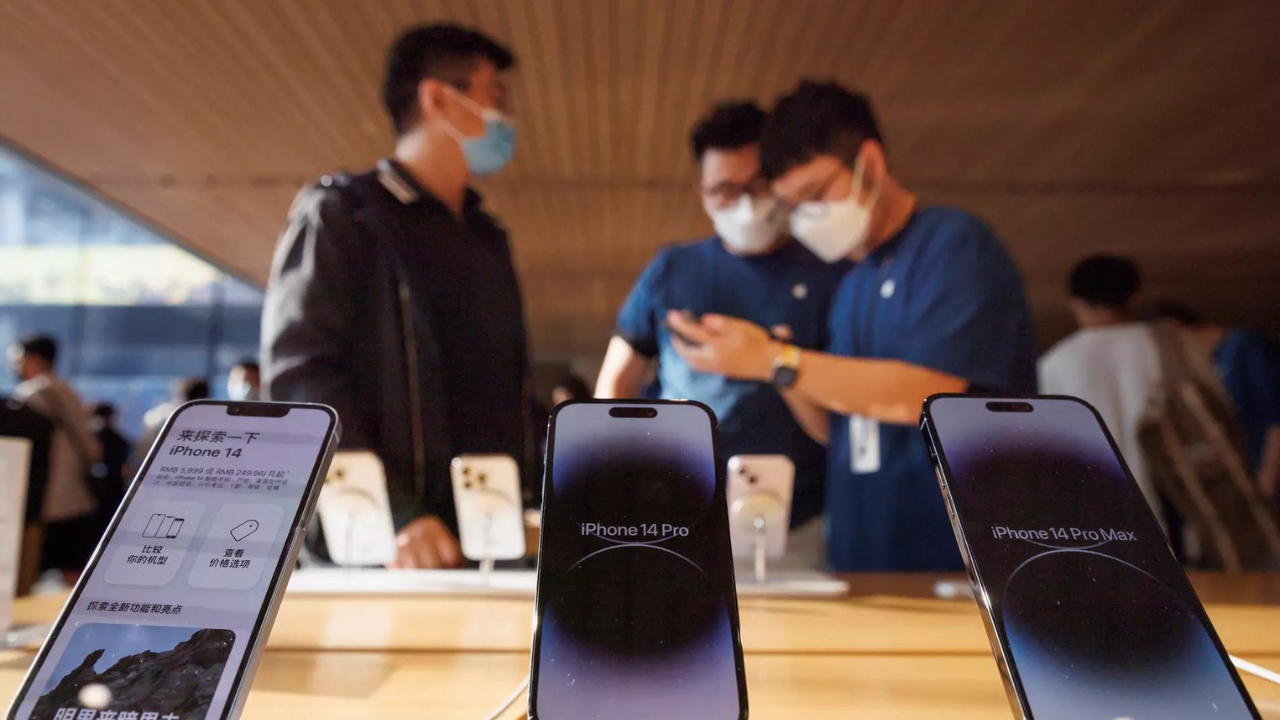 NEW DELHI:
Apple
's
iPhone
15 will cost much more in India than in the US and Dubai, despite the company manufacturing them in the country. With the company going aggressive in India on iPhone production, buyers had expected prices in the domestic market to come down, but that has not happened.
iPhone 15 Pro Max (1 terabyte) is priced at Rs 1,99,900 in India – 51% higher compared to the US price of $1,599 (Rs 1,32,717). This model is not yet being made in India. For the domestically produced models, the gap is as much as 20% when compared with the US (see graphic). The price of the iPhone 15 in Dubai is AED 3,399 (or Rs 76,817), a shade lower than in India, although the model is not manufactured in the UAE.
The difference is more stark when it comes to the flagship Pro versions, which attract 22% import duty. The base variant of iPhone 15 Pro in India is priced at Rs 1,34,900 compared to Rs 82,917 in the US. Surprisingly, the model is priced significantly cheaper in Dubai (Rs 97,157). And when it comes to the iPhone 15 Pro Max, the price in India is Rs 1,59,900, while it is Rs 99,517 in the US and Rs 1,15,237 in Dubai.
"One of the reasons is supply chain as several components are shipped after the payment of import duty. Also, the scale of business in India is much less when compared to strong volumes in the US and Dubai," a key Apple distributor said.
Prabhu Ram, head of industry intelligence group at CyberMedia Research, said many factors need to considered when looking at prices. "There are a lot of variables that go into final pricing. Apple does collaborate with partners to offer discounts and trade-in options in the year ahead to mitigate the impact of basic customs duties and additional taxes on the final pricing of imported models."
Also, he said the company's focus remains on the previous-generation models for India in the initial phase as consumers warm up to the new-gen ones slowly. "Our insights points to older generation
iPhones
propelling Apple's growth in India. When the iPhone 14 Series debuted last year, 54% of shipments through the year consisted of older-generation iPhones. A year earlier, when the iPhone 13 Series was launched, only 23% of shipments in that year were from the iPhone 13 Series, with the remaining 77% comprising previous-generation iPhones," Ram said.
Navkendar Singh, associate VP with IDC India, said, "It is not right to assume that 'assembled in India' would mean cheaper iPhones. Although assembling the non-Pro models saves some forex, Apple wouldn't drop the prices of new launch models. It will instead invest in marketing, supply chain and more importantly run aggressive affordability offers for previous-gen iPhone models, which anyway give majority volumes to Apple in India at any point."